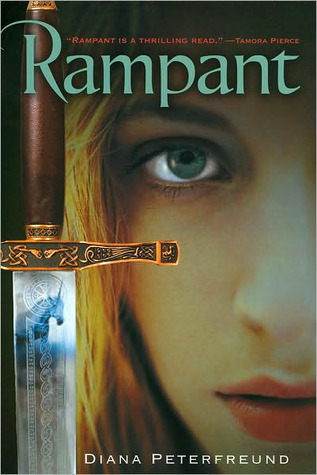 Series: Killer Unicorns
Source: Purchased @ bookstore
Format: Paperback
Pages: 402
Genre: YA Fantasy
Rating: 5 Stars
Publisher: Harper Teen
Release Date: September 1st 2009
Real unicorns are venomous, man-eating monsters with huge fangs and razor-sharp horns. Fortunately, they've been extinct for a hundred and fifty years. Or not. Astrid had always scoffed at her eccentric mother's stories about killer unicorns. But when one of the monsters attacks her boyfriend—thereby ruining any chance of him taking her to the prom—Astrid finds herself headed to Rome to train as a unicorn hunter at the ancient cloisters the hunters have used for centuries. However, at the cloisters all is not what it seems. Outside, the unicorns wait to attack. And within, Astrid faces other, unexpected threats: from the crumbling, bone-covered walls that vibrate with a terrible power to the hidden agendas of her fellow hunters to—perhaps most dangerously of all—her growing attraction to a handsome art student ... an attraction that could jeopardize everything.
My

thoughts

of

this

awesome

book

...
Warrior virgins, hunting unicorns. Can't get any better than that! Right away I knew I'd like this book. (And that I didn't much care for Brandt, because his sole purpose in life was to get into Astrid's pants).
The idea of killer uniforns is completly original and I love how the author intertwined mythology into the plot and it centers around strong women! Needless to say shit goes down in this book, bigtime!!
There is some romance in this book. There is no love triangle which I loved, however this book does not center around romance.
My favorite scene in the book is a shower scene! Astrid gets attacked and ends up in a small apartment above a shop with Giovanni. Need I say more?
I just loved the characters- Astrid, Giovanni, Phil, Cory, Bucephalus.
Bonegrinder most of all!
Diana Peterfreund paces the novel perfectly. There's not a slow part to this book. There are plenty of twist and turns to keep you guessing throughout the whole story, and the ending was great. I cannot wait to see what happens in the second book Ascendant!