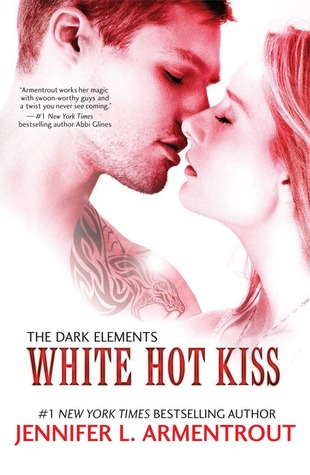 White Hot Kiss
Author: Jennifer L Armentrout
Series: The Dark Elements
Release Date: February 25th 2014
Publisher: Harlequin Teen
Source: I purchased this book myself
Genre: YA Paranormal Romance
Rating: 5 freaking amazing stars!!!
Website: http://bit.ly/1H2Bf9G
One kiss could be the last. Seventeen-year-old Layla just wants to be normal. But with a kiss that kills anything with a soul, she's anything but normal. Half demon, half gargoyle, Layla has abilities no one else possesses. Raised among the Wardens—a race of gargoyles tasked with hunting demons and keeping humanity safe—Layla tries to fit in, but that means hiding her own dark side from those she loves the most. Especially Zayne, the swoon-worthy, incredibly gorgeous and completely off-limits Warden she's crushed on since forever. Then she meets Roth—a tattooed, sinfully hot demon who claims to know all her secrets. Layla knows she should stay away, but she's not sure she wants to—especially when that whole no-kissing thing isn't an issue, considering Roth has no soul. But when Layla discovers she's the reason for the violent demon uprising, trusting Roth could not only ruin her chances with Zayne… it could brand her a traitor to her family. Worse yet, it could become a one-way ticket to the end of the world.
My

thoughts

on

White

Hot

Kiss

...
Honestly I am still fangirling at this point, I'm figuring this review will either be a hot mess or not a hot mess, we'll see.
Layla, the
protagonist
is half-demon half-warden. She has a unique ability that no one else has, that prohibits her getting close to anyone, her kiss will kill anyone with a soul. If this is your first time hearing about this series, have you been living under a rock? Seriously though, Warden's are what we think of as gargoyles, they protect people from demons. Layla lives with a family of Warden's who took her in when she was found in an orphanage at a very young age.
Right away I liked Layla, all she wants is a normal teenage life, to go to school and hang out with her friends Stacey and Sam. Layla has
been led to believe
that each and every demon out there is evil, and to ignore her demon half. That is until she meets Roth. Even though he's a demon she has trouble staying away, she can't resist the temptation of finally having the opportunity to be close to someone without worrying about sucking out their soul.
Meet Zayne, Layla's life-long crush and who I consider like a big-brother to her. Layla doesn't see him that way, she's had the hots for him as long as she can remember, however she knows he's off limits. They both know if they get too close Layla will unintentionally
suck out his soul. What I like about Zayne is that he's always there for her. Now Abbot, Zayne's father is another story altogether. I did not like him from the get go. He's the only father Layla has ever known, however he seems to have the impression she gets in the way more often than not. There was one scene in which I wanted to shake Abbot and ask him "Why aren't you standing up for Layla?!?".
I love the flirtatious banter that goes back and forth between Layla and Roth. Armentrout does a fantastic job with pacing their relationship, perfectly believable. There were plenty of swoon worthy moments throughout this book. Also more serious moments, for instance Roth shows Layla that there's more to life than what she feels she can't do, it's all about what you can do.
In some ways this book reminded me of Romeo & Juliet, the fact that they are from opposing sides, and have such a strong attraction to each other! This book is filled with Demons, Wardens, epic adventure and killer fight scenes! No to mention plenty of romance! Layla & Roth are pretty much forbidden to be together
, but ALL the SWOONS!!!
Eventually Layla finds out that there are much bigger things than being kissed without sucking out a soul going on, there are upper level demons popping up all over the city and she's the reason.
I don't know how Armentrout does it but she somehow has the perfect mix of romance, action and plot twist, which equals my favorite book of 2015 so far! Speaking of plot twist, there's a HUGE one in this book, I GUARANTEE you will be surprised!
A fight scene in which Layla and Roth are involved, it takes place in a parking garage. Wish I could tell you more, but hey I don't want to ruin it for you!
"Well, if you're against sitting in school, you could always go to my apartment and keep my bed company until I get back." Roth