I'm a bit behind on watching movies these days. What can I say, watching all 10 seasons of Supernatural on Netflix plus all of my DVR'd shows did me in. But I always make sure to make time to watch my favorite books come to life on the big screen! Without further ado here are my top ten 5 book to movie adaptations I'm looking forward to! (I couldn't think of ten!)
A

nna

D

ressed

I

n

B

lood
- So I absolutely loved reading this horrific YA novel, so it was a total fan girl moment when I found out Ficklefish films announced that they will be making it into a movie!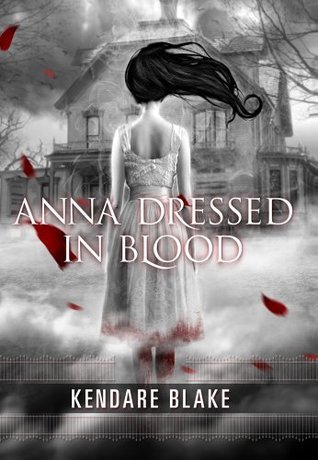 Now this announcement was made back in 2013
HERE
, so hopefully we will get to see a trailer soon! Here is the synospis from the Ficklefish films website:
Cas Lowood has inherited an unusual vocation: He kills the dead.
So did his father before him, until he was gruesomely murdered by a ghost he sought to kill. Now, armed with his father's mysterious and deadly athame, Cas travels the country with his kitchen-witch mother and their spirit-sniffing cat. They follow legends and local lore, destroy the murderous dead, and keep pesky things like the future and friends at bay.
Searching for a ghost the locals call Anna Dressed in Blood, Cas expects the usual: track, hunt, kill. What he finds instead is a girl entangled in curses and rage, a ghost like he's never faced before. She still wears the dress she wore on the day of her brutal murder in 1958: once white, now stained red and dripping with blood. Since her death, Anna has killed any and every person who has dared to step into the deserted Victorian she used to call home.
Yet she spares Cas's life.
S

hadowhunders (The Mortal Instruments series)-
I don't know about you but I just love the world author Cassandra Clare has created in her Mortal Instruments series! I read the first three books back in 2009 or so, back then we were told there would only be three books in the series. Boy was I surprised when she released another book! Unfortunately I haven't read the whole series, you know the whole "too many books, not enough time" time, well I'm still planning on finishing them one of these days.
I was so excited when I discovered it would be made into a TV series! Luckily for us fans the show is premiering January 12th @ 9pm! I think I may do a post on my thoughts once it airs, are you a fan of the Mortal Instrument series and what do you think of it becoming a TV show?
I think my mouth hit the floor when I found out Fallen was being made into a movie! Now it's still very early out but I learned from Lauren Kate's website that the movie in Budapest!
What's really cool is the fact that they are using the an ancient castle as the Sword and Cross academy, what do you think?
Book Summary:
What if the person you were meant to be with could never be yours?
17-year-old Lucinda falls in love with a gorgeous, intelligent boy, Daniel, at her new school, the grim, foreboding Sword & Cross . . . only to find out that Daniel is a fallen angel, and that they have spent lifetimes finding and losing one another as good & evil forces plot to keep them apart.
T
he
Scorch
Trials-

Recently my husband and I watched The Maze Runner. I must admit I never read the book, but the movie was awesome. I'm already hearing the next installment The Scorch Trials is even better!
Movie summary (from IMDb.com) -
In this next chapter of the epic "Maze Runner" saga, Thomas (Dylan O'Brien) and his fellow Gladers face their greatest challenge yet: searching for clues about the mysterious and powerful organization known as WCKD. Their journey takes them to the Scorch, a desolate landscape filled with unimaginable obstacles. Teaming up with resistance fighters, the Gladers take on WCKD's vastly superior forces and uncover its shocking plans for them all.
T

he Silver Chair-
It never fails, I always love a good Chronicles of Narnia movie!
Book Summary
:
King Caspian has grown old and sad in the ten years since the disappearance of his only son. With time running out, Jill and Eustace embark on a perilous quest to find the Prince and bring back tranquility to the magical land of Narnia.
Journeying to the wild lands of the north, the friends and their companion Puddleglum battle mighty storms and encounter a race of giants who like nothing better than a tasty snack of human children! Searching deep underground in the grim land of the Earthmen, they encounter the wicked Green Lady who has evil plans to overthrow King Caspian and become Queen of Narnia.