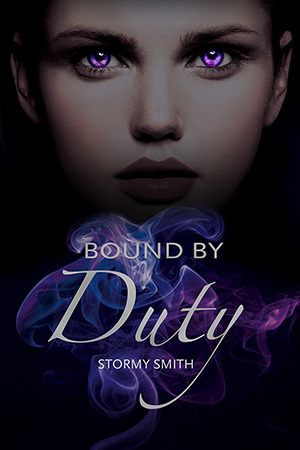 Amelia grew up in a world of half-truths. She knows she's an Elder but has no idea what that means. Her father reminds her daily that she must maintain control but he refuses to explain why. Even worse, she's betrothed to the prince of the Immortals and she doesn't even know his name.

Finally breaking free to live a few normal years at a community college, the last thing Amelia expects is to find her best friend in a cheeky Southern girl and to fall for a self-assured human who sees her for who she is and not what she'll be.
As she learns more about herself, Amelia realizes the line between love and duty is a thin one. As her power continues to increase exponentially and her questions are slowly answered, Amelia must make the ultimate choice. The question is, will her head or her heart win the battle?
When I read Bound by Duty I absolutely fell in love with Amelia and her magical world! You can see my review
HERE
.
I am a very visual person and just love this post, we get to meet the cast!
Guest
Post
: Meet

the

cast
of
Bound
by
Duty
...
I've had a very strange relationship with the cast of Bound by Duty. I had no idea I even wanted to write a book and then BOOM, one day there were four people living inside my head. (Yep, authors are a crazy breed…)
They started out looking a lot like people I knew in my real life, but as I kept writing and I started trusting both myself – and them – more, I saw them for who they really were. They frustrate me to no end when they refuse to play by my outline but they surprise me constantly as they grow and change before my eyes. I'm already well into Bound by Spells (book two in the Bound series) and I'm so proud of who they are becoming.
Each of these characters have so much backstory that I can't give you right now. But know that if you decide to dig into Bound by Duty, you'll learn a lot about how family impacts the person you become – like it or not – and how friends have the ability to change your entire outlook on life. And love…well, it makes you do crazy things. But, we all knew that. ☺
This is Amelia Bradbury. She grew up in Gualala, California but currently calls Brighton, California home. She's got an older brother, Cole, who treats her too much like the ten-year-old she was when he left home, and her dad, Nathaniel, who's a little bit nutcakes. She likes Cherry Pepsi, caramel lattes, The Civil Wars, Florence and the Machine and a certain smokey-eyed mysterious boy who just won't leave her alone.
This is Aidan Montgomery. He's a little quiet, a little cocky and lot persistant. He loves alternative, hates country and has an affinity for local restaurants and his own space. He's a foster kid, but that hasn't stopped him from trying to get an education, from spending time in the local MMA gym or setting his sights on one Amelia Bradbury.
Meet Bethany Jackson. Formerly a pageant queen and barrel racer. Currently a connoisseur of frozen yogurt, collegiate California surfers, DIY decorating her first apartment with her new bestie and watching romantic comedies. She wants everyone to know that no matter what life hands her, she'll choose to be happy and make the best of it. She doesn't need anything but good friends and killer pair of heels to make it through. That said, she'd take Prince Charming as long as she had control of the white horse.
Micah tends to be the odd man out. His speech is oddly formal, he doesn't get America pop culture and his accent is a bit hard to place, while still being utterly adorable. He always seems to be a step ahead, but a certain blonde still keeps him on his toes.