Review: Stone Cold Touch by Jennifer L. Armentrout- The book that had me smiling like a lovesick schoolgirl.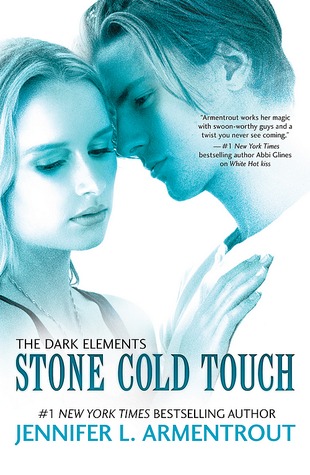 Series: The Dark Elements #2
Source: Joseph-Beth Booksellers
Format:
paperback
Pages: 446
Genre: YA paranormal romance
Rating: 6 Stars
Publisher: Harlequin Teen
Release Date: October 21st 2014
Every touch has its price

Layla Shaw is trying to pick up the pieces of her shattered life—no easy task for a seventeen-year-old who's pretty sure things can't get worse. Her impossibly gorgeous best friend, Zayne, is forever off-limits thanks to the mysterious powers of her soul-stealing kiss. The Warden clan that has always protected her is suddenly keeping dangerous secrets. And she can barely think about Roth, the wickedly hot demon prince who understood her in ways no one else could.

But sometimes rock bottom is only the beginning. Because suddenly Layla's powers begin to evolve, and she's offered a tantalizing taste of what has always been forbidden. Then, when she least expects it, Roth returns, bringing news that could change her world forever. She's finally getting what she always wanted, but with hell literally breaking loose and the body count adding up, the price may be higher than Layla is willing to pay…
"I love you Layla. Do you hear me? I've loved you since the first moment I heard your voice and I will continue to love you. No matter what. I love you."
I seem to have a weakness for every single Jennifer L Armentrout book that I pick up. Stone Cold Touch was no exception. I absolutely adored this book! This one is perfect for every single paranormal romance lover out there, regardless if you read YA, NA or Adult!
"I know exactly how he looks at you and you do, too … Because it's the way I look at you."
Love triangles have always been a deterrent for me, for as long as I can remember I've avoided them like the plague. Yes, there is a love triangle in this one and I LOVED IT! (I can't believe I actually said that, but yes it's true!) The relationships were written in a realistic and swoon-worthy way. I'm not sure how Armentrout did it but I may have to rethink my dislike of love triangles.
Apparently there was a whole voting for who Layla ends up with, either Roth or Zayne. I missed that but I know who I'm rooting for! I couldn't help for fall in love with Zayne in this one. Which shocked me because I didn't like him much in White Hot Kiss. Of course at the end of the day I'm still rocking #TeamRoth!
The humor in this one was perfection. All of the snark and sarcasm had me laughing out loud throughout the book.
"I shrugged. "Actually, I didn't tell her much of anything. She must've put two and two together all on her own and come up with you being a jerk face."
His gaze slid back to me and he grinned. "Ouch, shortie."
"Yeah, like that really bothered you." I glanced back through the small window in the door that led to bio. Mr. Tucker was already at his desk—was Mrs. Cleo ever coming back?—and we only had a minute, tops, before the tardy bell rang. "What did you want?"
Reaching into his pocket, he pulled out a thin slip of yellow paper, waving it in my face. "Guess what I found?"
"Obviously not a better personality," I remarked.
"Ha. Funny." He brushed the edge of the paper across my nose and smiled when I smacked it away."