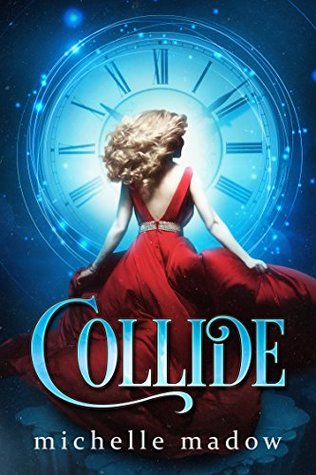 I should have died when I was shot at the Halloween dance.

Instead I woke up—one week earlier, in a parallel universe where my mom's fatal car accident six months ago never happened.

A world with my mom still in it was all I ever wanted. But in this timeline, everything is different—my grades, my friends, and even my boyfriend. I'm a stranger in my own body, and I don't like who I've become.

But one thing is the same—that shooting will still happen at the end of the week.

I'm the only one who knows. Which means I'm the only one who can stop it.

But first I need to convince someone—anyone—that I'm telling the truth... and then get them to help me.
Series: Standalone
Source: Sent by the author in exchange for an honest review
Format: ebook
Pages: 308
Genre: YA action-adventure/mystery + fantasy
Rating: 4 Stars
Publisher: Dreamscape Publishing
Release Date: February 9th 2017
Collide is written in Madow's signature style, fast-paced non-stop action with plenty of twist to keep you guessing and characters that will make you smile. Once again, this author has created an amazing story that I didn't want to put down!
Collide in 5 words: Fun mysterious action-filled fantasy.
Storyline: I was hooked from the beginning. Immediately after reading the first couple of paragraphs I felt the nostalgia practically dripping from the pages. Madow has a way of pulling you into the character's head and I felt like a teen all over again!
Quite quickly though the mood changes into a more somber, almost melancholy feel. Not without reason, the main-character Anna has recently lost her mother from a drunk driver hitting her.
Not only does she lose her mother but she also loses her boyfriend from a school shooting at the Halloween Dance.
Imagine waking up the next morning and you are a week into the past, AND in another universe! Ever heard of the multiverse theory? I LOVE that Michelle uses it in Collide!
Characters: I really enjoyed each and every character in this book. They are all written into incredibly realistic people. I felt like I knew them!
Watching Anna get to know her friends all over again in the parallel universe was super intriguing. I loved how they were the same people but different due to the experiences that made them who they are.
Other things I liked about Collide:
1. It reminded me of a YA version of Groundhog Day.
2. The series, real-world issues of gun violence: On the surface this book may feel like a light read but it does deal with a few serious issues.
3. Fast-pacing (Of course!).
4. The Ending- I can't tell you anything but at first I thought 'wait, no...that can't be the end!' but after simmering on the ending I absolutely loved it!
All-In-All:
I'd recommend this book to anyone with the following:
1. A Book Hangover- Collide if the perfect cure!
2. If you're a fan of the multiverse theory.
3. Or if you like time-travel!
4. Love fast-paced adventure type books.
5. Are a fan of Groundhog Day.