I'm excited to get back into this fun meme, Top Ten Tuesday! As y'all have probably noticed I haven't been around as much. Well, I'm happy to say that I'm back!
I love meeting new authors but am ashamed to say that I've only met a handful to date. First I'll list the authors I have met then let's get on to the authors I'm dying to meet!
Authors I'm dying to Meet...
Stephenie Meyer - Needs no explanation! 💜
Colleen Houck - I loved her Tiger's Curse series and she's an awesome person! I'm collecting her Reawakened series and plan on reading it soon!
Lucia St. Clair Robson - Ride the Wind is my favorite novel EVER!
Julia Quinn - I fell in love with Regency Romance because of her Bridgertons series! Also, no one can write Regency Romance quite like her!





Jennifer L. Armentrout - I discovered her Lux series while on Goodreads and have loved each and every book of her's that I pick up ever since!


Nora Roberts- I know I mostly read YA these days but anytime I'm in a book slump all I have to do is pick up a Nora Roberts book and I'm right as rain! Every single book of her's that I've read I've LOVED! Plus I love that she writes anything from Contemporary, Mystery to full out Paranormal (all adult genres)!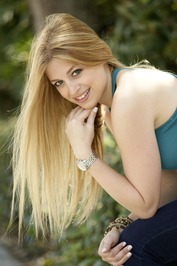 Michelle Madow - this chick is super down to Earth and an amazingly talented writer! Have you read her Elementals series yet? If not I highly recommend it!


Stormy Smith- Speaking of down to Earth authors, Stormy is the epitome of that definition! Her Bound series is magically addictive!


Rachel Higginson- I stumbled upon her Star-Crossed series awhile back and was immediately addicted to her writing! So far every book of her's that I've read I've rated 5 stars, even a contemporary romance!

Who are some of your favorite authors that you're dying to meet? Let me know in the comments, I'd love to know!